Islamabad (February 26, 2018): After secretly tieing the knot for the third time with a spiritual lady, Bushra Watto, the Pakistan Tehreek-i-Insaf Chairman Imran Khan on Sunday night silently held valima ceremony at his Bani Gala residence in Islamabad.
According to details, the valima ceremony was held at the Bani Gala residence with both bride and the groom there to welcome the guests.
Click Play Button to Watch this Video 
[embedded content]
Those who attended the valima gathering included relatives of Imran Khan and Bushra Watto along with several leaders of the PTI.
The reception was attended by PTI members Arif Alvi, Jahangir Tareen, Fawad Chaudhry, and Imran Ismail. Asad Umer and Shireen Mazari also attended the function, where Imran introduced his wife Bushra Bibi to the party leaders.
It is pertinent t to mention here that on February 18, Pakistan Tehreek-e-Insaf (PTI) Chairman Imran Khan married for the third time with  Bushra Maneka.
Pakistan Tehreek-e-Insaf (PTI) confirmed party chairman Imran Khan's third marriage with Bushra Maneka.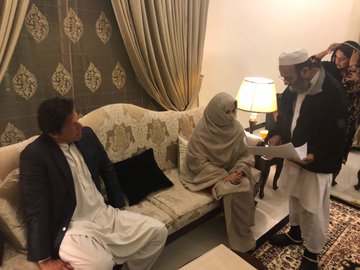 The party issued pictures of Imran's Nikah with Bushra Maneka, in which close relatives of Bushra Bibi are seen. Imran's political secretary Awn Chaudhry is also witnessed in the images.
The party spokesman further announced at that time that a simple ceremony would be held for he valima reception in Bani Gala in a couple of days.
Related News:
TRENDING NOW:


Originally Posted on Abbtak TV